The Symbol of the Alps, a big mountain for experienced climbers.
Duration: 6 days
Activity: mountaneering
Difficulty: a very good physical condition is needed; for the Matterhorn climbing is needed a good experience in rock climbing (fourth degree) at high altitude.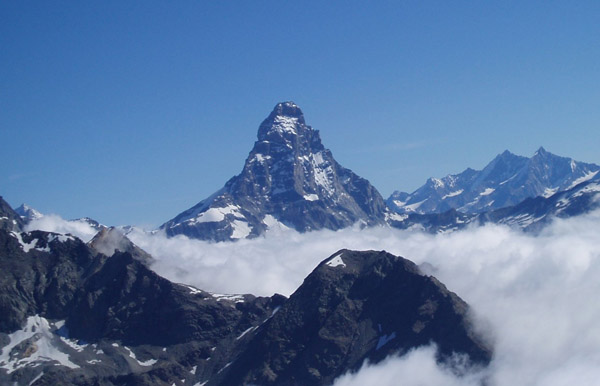 General planning:

Day1: meeting point in Coumayeur → Rif. Torino (3375 m, by cable car), climb on Aiguille d'Entrèves 3604 Mt.
Day2: Pont Valsavarenche 1960 m - Rifugio Chabod 2750 m
↑ 790m ↓0m 3h
Day3: Rifugio Chabod 2750 m – Gran Paradiso 4061 m - Pont Valsavarenche 1960 m
↑ 1311m ↓2100m 8h
Day4: easy climbing with short walk
Day5: Cervinia 2000 m → rif. Lo Rionde 2802 m (by car) → Capanna Carrel 3835 m
↑ 1033 m ↓0 m 5h
Day6: Cervino!!
↑ 643 m ↓2500 m 10h
Best Period: from July to September
Necessary equipment: the list with the complete equipment required will be specified at the time of registration. It is possible to rent it on site.
Price per person: 1900€ for 1 person; 1500 for 2 people
Price includes: Guiding fee and Group equipment; the costs of the guide (shelters, ski lifts, etc.) will be divided among the participants
The program can be modified according to the conditions of the mountain.